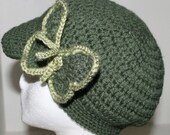 Crochet Cap in Green with Butterfly Light Green Highlights!
That is crochet in my own design of the Ginchy Hat. The butterfly is attached to a Bobby Pin. So you can wear the hat with the butterfly - without the butterfly. You can also wear the Butterfly by itself in your hair
The Ginchy Hat - means cool, groovy, hep, happenin', awesome, rockin'.
This describes this hat to...
Click Here to Visit My Etsy Shop!