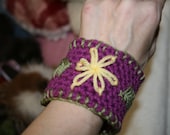 Make a unique fashion statement with this crochet and embroidered cuff bracelet.
It measures about 8 inches in diameter .. as you can see from the pictures I have small wrists :)
Its about 2 inches wide.
Custom Orders always welcome - but keep in mind that each will be unique every time.
Click Here to Visit My Etsy Shop!